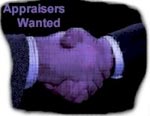 CADRE Group, a nationally recognized and award winning real estate evaluation company is currently seeking qualified individuals to complete real estate property appraisals!

An Industry Leader!



Attaining a leadership position in any industry is no easy task. CADRE Group has established a multitude of affiliations with targeted client groups and select industry associations. This has earned CADRE Group a national reputation as a leader and "trend setter" in our field. We have received numerous awards and recognition as a result of a strong focus on our core competency - high quality real estate appraisals!
BUILDING PROFESSIONAL ALLIANCES



CADRE Group has established an Electronic Data Interchange (EDI) platform that is considered to be "state-of-the-art" in both form and function. This infrastructure, which is favored by our clients, allows us to link real estate appraisers in any location. CADRE Group is continuing to expand its professional services team in your specific geographic location. By maintaining appraisers in their familiar market areas, we continue to enhance the quality of our services.
JOIN A WINNING TEAM



To discuss how you might increase your earning potential by becoming part of a winning team, please complete our online application, or fax your resume to CADRE Group at 203-368-2210.