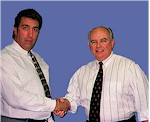 Michael is the founder and Managing Partner of CADRE Group, LLC. His responsibilities include the technical training and appraisal review for all of the state licensed appraisers within the organization. Michael holds state licenses in Connecticut and New York, in addition, he is also FHA/ HUD approved and holds senior CRA (Certified Review Appraiser) designation with the Nation Association of Review Appraisers and Mortgage Underwriters (NARA/ MU). He is also in the National Appraisal Registry, which allows him to conduct business in federal transactions. He received his bachelors degree in business from Sacred Heart University in Fairfield, Connecticut in 1975.

In addition to his responsibilities as the Chief Appraisal Reviewer at CADRE Group, Michael is frequently called on to provide expert testimony regarding property values in many Superior Courts. He is also an appraisal instructor with the Connecticut Real Estate Institute and the Metropolitan Real Estate School.

Michael's career in property evaluation began in 1976 as a Tax Assessor with the city of Norwalk, CT (1976-1979). In 1979, he was employed with PPH Homequity Relocation (1979-1990) and enjoyed success in various executive capacities. In 1988, Michael was given the responsibility of building the operations delivery systems for PPH Homequity's newly formed Asset Disposition Department, which soon became an industry leader in that field. In 1990, Michael took an assignment with the Travelers Relocation Company (1990-1992) where he became director of property evaluation. He was responsible for the training and development of residential appraisers throughout the United States. Michael served in this capacity while being in charge of operations for the corporate relocation of Exxon World Headquarters from New York to Dallas, Texas. Here he directed an operations team responsible for the purchase and resale of all transferring Exxon staff executives' homes in the Northeast.

In addition to the above, some of Michael's professional achievements include past President of the Norwalk, CT Junior Chamber of Commerce and past President of Delta Phi Omega Civic Service Fraternity. He was also National Conference Chairman (1987) for the National Association of Review Appraisers and Mortgage Underwriters, Member of the Employee Relocation Council (ERC), Licensed Real Estate Broker, Member of the Relocation Appraisers & Consultants (RAC), and many others.

Michaels academic studies focused on real estate and include Fundamentals of Appraisal (Instructor), Appraisal Licensing & Law (Instructor), Uniform Standards of Professional Appraisal Practice (USPAP), Fair housing, HUD/ FHA Appraisal Practices, Real Estate Principals, Real Estate Financing, Real Estate Law, Income Property Appraisal, Commercial Appraisal and many others.